Crew rescued from sinking Fraserburgh trawler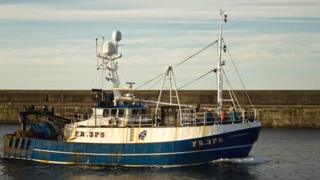 The crew of a sinking trawler has been airlifted to safety off the Scottish coast.
Coastguard were alerted at about 05:30 on Sunday when the Fraserburgh-registered Ocean Quest started taking on water.
Two helicopters and a lifeboat were sent to the scene, 75 miles north-east of Fraserburgh.
Five crew members were rescued, and returned to dry land uninjured. The vessel has now sunk.
As well as the lifeboat, three other vessels in the area also approached the scene to assist if required.
A spokeswoman for HM Coastguard said: "Once on scene, the HM Coastguard helicopter lowered the winchman with a pump on to the vessel.
"Attempts were made to pump water from the vessel but this proved unsuccessful.
"The crew, all wearing life jackets, were then winched aboard the HM Coastguard search and rescue helicopter and they were transferred to Inverness. Fishermen's Mission met the crew at Inverness to provide support."
A Marine Accident Investigation Branch (MAIB) spokesperson said: "We are sending inspectors to investigate the loss of the Ocean Quest."