Sexual assault councillor Alan Donnelly suspended by Standards Commission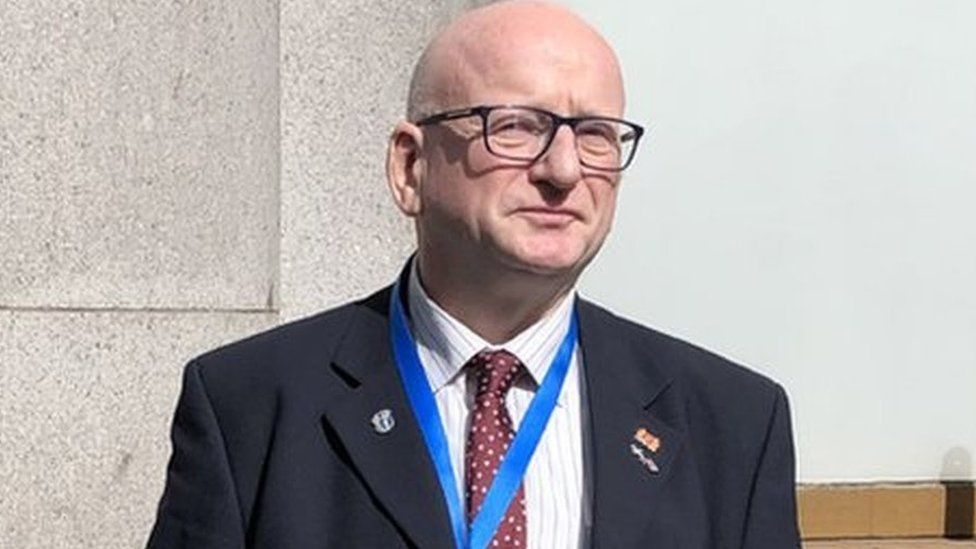 A councillor who was convicted of sexual assault has been suspended from Aberdeen City Council.
The 65-year-old former depute provost resigned from the Tories but has resisted calls to stand down.
The watchdog said it was satisfied that it was "both proportionate and in the public interest to impose an interim suspension".
Asked for a response to the announcement, Donnelly said: "No comment".
During the trial, Donnelly had denied kissing and touching a man who was working at an event in the city.
Donnelly was previously part of the ruling Conservative, Labour and independent administration.
However, he was found guilty and ordered to pay compensation.
'Maintain public confidence'
He was referred to the public standards watchdog following his conviction.
The Standards Commission said it had been told Donnelly was considering lodging an appeal against conviction.
The watchdog said: "The panel determined that it was in the public interest to impose an interim suspension, to maintain public confidence in the ethical standards framework in Scotland."
The suspension is for up to three months.
However if the investigation does not conclude within the interim suspension, the Standards Commission can consider renewing it.
The Standards Commission said it had only imposed one interim suspension before.
A number of councillors got to their feet to register their dissent at his involvement during the proceedings.
However the Lord Provost said councillors could only register dissent to decisions made by the council, but not about who takes part in a vote.
Jackie Dunbar, the Aberdeen SNP deputy group leader, said she "welcomed" news of the suspension.
She said: "He should do the decent thing for once and resign immediately. We're hoping the investigation can be concluded quickly to bring closure to the victim."
Aberdeen City Council co-leader Douglas Lumsden said: "Councillor Donnelly is an independent councillor. He was voted in by the people of Aberdeen back in 2017. So while he was not suspended, he was entitled to take part in a vote. Obviously that has now changed."