Aberdeen coronavirus outbreak: Number of cases rises to 79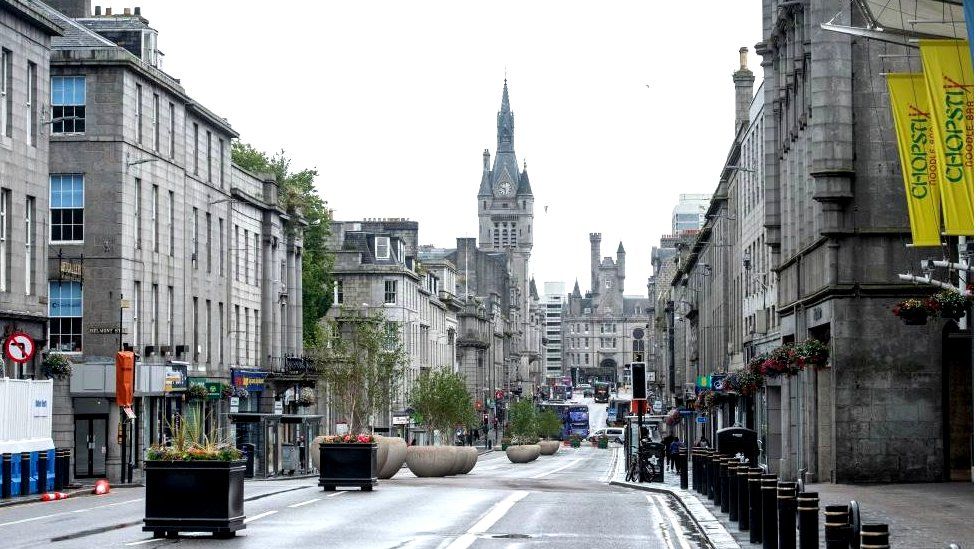 The number of coronavirus cases linked to an outbreak in Aberdeen has increased to 79 - with more expected in the coming days.
Lockdown restrictions were imposed in the city on Wednesday after the number of cases in the cluster rose to 54.
First Minister Nicola Sturgeon said an additional 25 cases had been confirmed since then.
A further 30 cases are being investigated to see if they are linked, while 233 contacts have been traced.
However, Saturday's Scottish Premiership trip to face St Johnstone was still due to go ahead.
After it emerged that the eight Aberdeen players had visited a bar together, the Scottish government expressed its disappointment.
Economy secretary Fiona Hyslop told the BBC's Good Morning Scotland programme: "It's deeply disappointing and concerning but there are responsibilities on all sides.
"It's important that protocols are adhered to and that will be the subject of the discussion later on."
Minister for public health and sport Joe Fitzpatrick has called a meeting with the Scottish FA and SPFL on Friday to discuss the situation after what a government statement calls "a clear breach of the rules".
More than 228,000 people living in the city have been told they should not enter each other's homes or travel more than five miles for leisure - and should not go on holiday.
The cluster has been linked to pubs and restaurants in the city - which have all been told to close for at least seven days as part of the local lockdown measures.
But the city still plans to start reopening its schools next week.
Ms Sturgeon said the latest figures "underline why it was so important that we took strong and decisive action yesterday to try to keep this outbreak under control."
She added: "I, unfortunately, would expect to be standing here tomorrow reporting growth beyond the numbers today."
Ms Sturgeon said there seemed to be an issue with people spreading the virus by going from one pub to another, and hinted that tighter rules could be imposed on licensed premises.
She added: "We have not reached a view on that yet but it is something we can't simply ignore."
Anyone who had visited any of the premises linked to the outbreak should be "extra vigilant for symptoms" - even if they had not been contacted by specialist tracers.
Bieldside Inn, Bobbin, Brewdog (Castlegate), Buckie Farm Carvery, Café Andaluz, Café Dag, Café Drummond, The Cock & Bull, College Bar, The Dutch Mill, Dyce Carvery, East End Social Club, Ferryhill House Hotel, Hawthorn/Adam Lounge, The Howff, The Justice Mill, The Marine Hotel, McGinty's, McNasty's, Malmaison, Moonfish Café, No.10 Bar, O'Donoghues, Old Bank Bar, Prohibition, Soul, Spider's Web, The Draft Project.
The list also includes Aboyne, Deeside and Hazelhead golf clubs, and the Banks O'Dee Football Club.
The first minister said that some people who had visited these premises would not have been contacted by test and protect staff because they may not have been there at the same time as the person who tested positive.
Alternatively, they might not be classified as a close contact - for example, they might not have been within two metres for the requisite period.
Ms Sturgeon said: "On the numbers I have right now, they are tracing successfully a very high proportion of the contacts and that should give us a degree of assurance about how the system is working."
She said it was "absolutely essential" for anyone involved to follow the advice they were given by contact tracers.
And she stressed the importance of people across the country coming forward for testing and self-isolating immediately if they experience symptoms of the virus.
Details of the Aberdeen cluster, which was initially linked to people who had visited the Hawthorn Bar on Holburn Street on 26 July, first emerged on Sunday.
Many, but not all, of those who have tested positive are from younger age groups.
The first minister said that some of the lockdown measures could be extended to parts of Aberdeenshire because of its "close integral links" to the city.
'It was frustrating to see people ignore the rules'
Poppy Chisholm-White, who works at the Siberia Bar and Hotel in the city, says she is "gutted" that the local lockdown has been imposed.
The bar is not linked to the rise in cases in Aberdeen - and actually chose to shut the day before the new restrictions were imposed.
"It's really hard to get your head around when the rest of the country is kind of normal but we're not allowed to see each other," the 20-year-old told Radio 1 Newsbeat.
"Everyone got a bit of a fright and feels deflated about it".
Poppy said her bar had strictly followed all of the social distancing guidelines when it was open.
But she added: "It was frustrating to see other people not taking it quite as seriously."
She said it was hard to "monitor drunk people" and there were still cases of customers "walking the wrong way or going between tables" despite the efforts of staff to stop them.
"To be honest, we did expect it a bit because when you tell people they're allowed, they're going to drink, speak and hug their friends.
"It's not a joke. People are dying and are ill. You can't just go and act like everything's normal."
Health Secretary Jeane Freeman said the person who had started the outbreak - the so-called trigger case - had not yet been identified.
She told the Good Morning Scotland programme that it was unlikely that one person had gone to all of the bars that had been linked to the outbreak.
Ms Freeman added: "What is more likely is that more than one person has been to more than one venue, and that is part of the complexity of this."
The restrictions that have been imposed on the city include:
not to travel more than five miles for leisure or holidays
not to travel to the city for leisure or to visit friends and family, even if you live in Aberdeenshire
if you are currently visiting the city, you can stay - but take necessary precautions when returning home
no indoor visits with other households
bars, cafes, restaurants and pubs must close, although takeaways can remain open.
Extra police have been sent to the city to help increase patrols but the first minister has said she hoped compliance would be voluntary.
The restrictions will be reviewed next Wednesday and may be extended further if required.
Ms Sturgeon told her daily coronavirus briefing that 39 of Scotland's 67 new confirmed cases were in the Grampian health board area.
She also said that 17 new cases in Greater Glasgow and Clyde area were being examined to see if there were any visible patterns.
The new cases take the Scottish total to 18,847 since the outbreak began, and mark the highest single day rise for more than two months.
The reproduction rate of the virus - the so-called R number - is currently estimated to be between 0,6 and one - marginally higher than the previous estimate of between 0.6 and 0.9.
It was estimated last week that 275 people in Scotland were infectious with the virus.