John Lewis: Call for 'devastating' Aberdeen closure rethink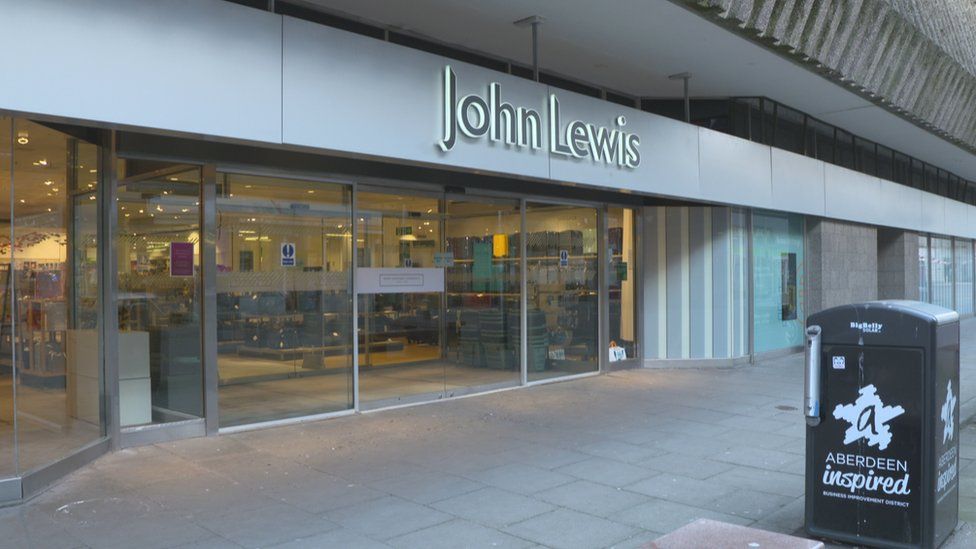 The retailer John Lewis is being urged to reconsider its decision not to reopen its branch in Aberdeen.
The department store - which opened in 1989 and employs 265 people - is among eight in the UK closing down.
Cross-party politicians and business leaders have called for more talks, and one online petition already has more than 15,000 signatures calling for the store to be saved.
John Lewis said it would "continue dialogue" about the Aberdeen decision.
The company said the eight shops were "financially challenged prior to the pandemic".
Russell Borthwick, chief executive of Aberdeen and Grampian Chamber of Commerce, said there was determination to save the store from the axe.
He said of the closure announcement: "This is sad news, not just for the 265 that worked at John Lewis but for Aberdeen city centre and the north east of Scotland.
"Aberdeen is Scotland's third city. There is still an appetite for the real life bricks and mortar shopping experience and our offer to John Lewis is that they should engage with the Aberdeen economic partnership to discuss whether there may be ways found to enable them to reconsider this decision.
"Decisions being taken now could see our town and city centres, places that should be the beating heart of our communities, become urban deserts of the future. We must not allow this to happen."
Adrian Watson, chief executive of business-led initiative Aberdeen Inspired, said it was "devastating" news for the city.
"John Lewis is an iconic, trusted and respected retail brand which employs 265 local people, its loss will be felt widely by both staff and the people of the north east", he said.
"Shoppers are attracted to the city by the presence of John Lewis which, in turn, supports other city centre businesses."
After the initial announcement on Wednesday, John Lewis said in a later statement: "We've been in contact with the chamber of commerce in Aberdeen and relevant local politicians about the proposal to close and we will continue dialogue with them."
More than 30 stores will start reopening from 12 April, subject to government guidance, with the exception of Glasgow, which will reopen from 26 April, and Edinburgh, which will reopen on 14 May.