Man drives horses 650 miles in police officer brother's memory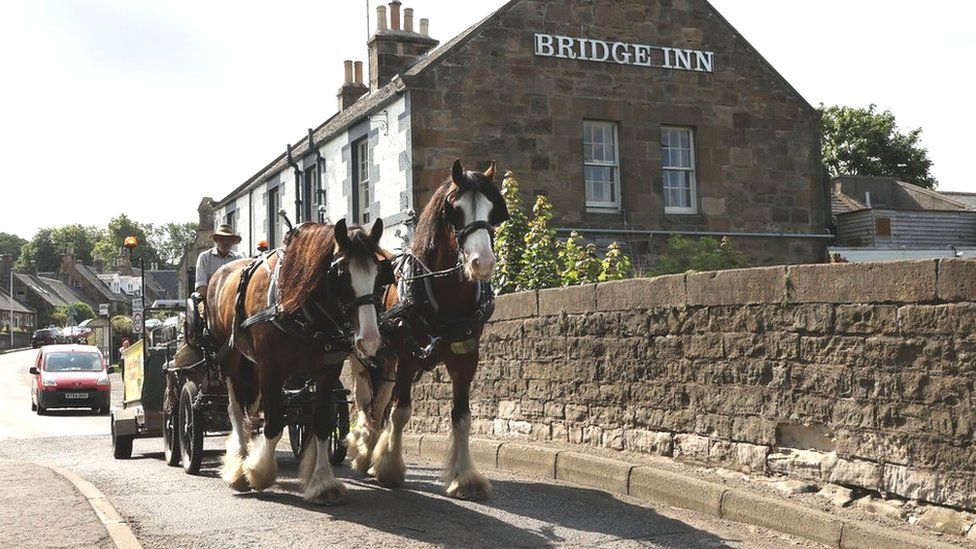 The brother of a policeman who died after being in a coma for 14 years has driven two horses 650 miles (1,046km) from England to Scotland in his memory.
John Alcock, who was involved in royal protection duties, was in a police car travelling to Ballater in Aberdeenshire in 2003 when the accident happened.
His brother Jamie Alcock aims to raise £50,000 for Police Care UK and the Fire Fighters Charity.
So far, he has raised more than £40,000.
The mammoth journey in honour of the officer, of Garmouth in Moray, started in early June from May Hill in Gloucestershire.
Jamie Alcock reached his destination of Elgin, Moray, with his two Shire horses named William and Millie on Friday afternoon.
The 55-year-old said: "My brother never recovered consciousness.
"The real inspiration is the way the police federation and charities responded to John's needs - he was in a coma for 14 years and had a partner and young son. The police really are a family.
"I thought, 'one day I will put back into their pot' - I wanted to help raise money so that others can be helped by them".
He said the journey had been a "timely reminder how generous people are" despite the impact of the last 18 months.
"The individual encounters, and hospitality of the Scots, has been the highlight," he said.
"The Kelpies sculptures were a real highlight of the trip too."
Asked what his brother would have made of his efforts, Jamie said he thinks his brother would have laughed and said he was "daft".
But he added: "I think the response of people would have moved him."
The driver of the other vehicle involved in the 2003 crash later admitted careless driving and was fined £1,000.
Related Internet Links
The BBC is not responsible for the content of external sites.