Long Covid: 'Hyperbaric chamber treatment transformed my life'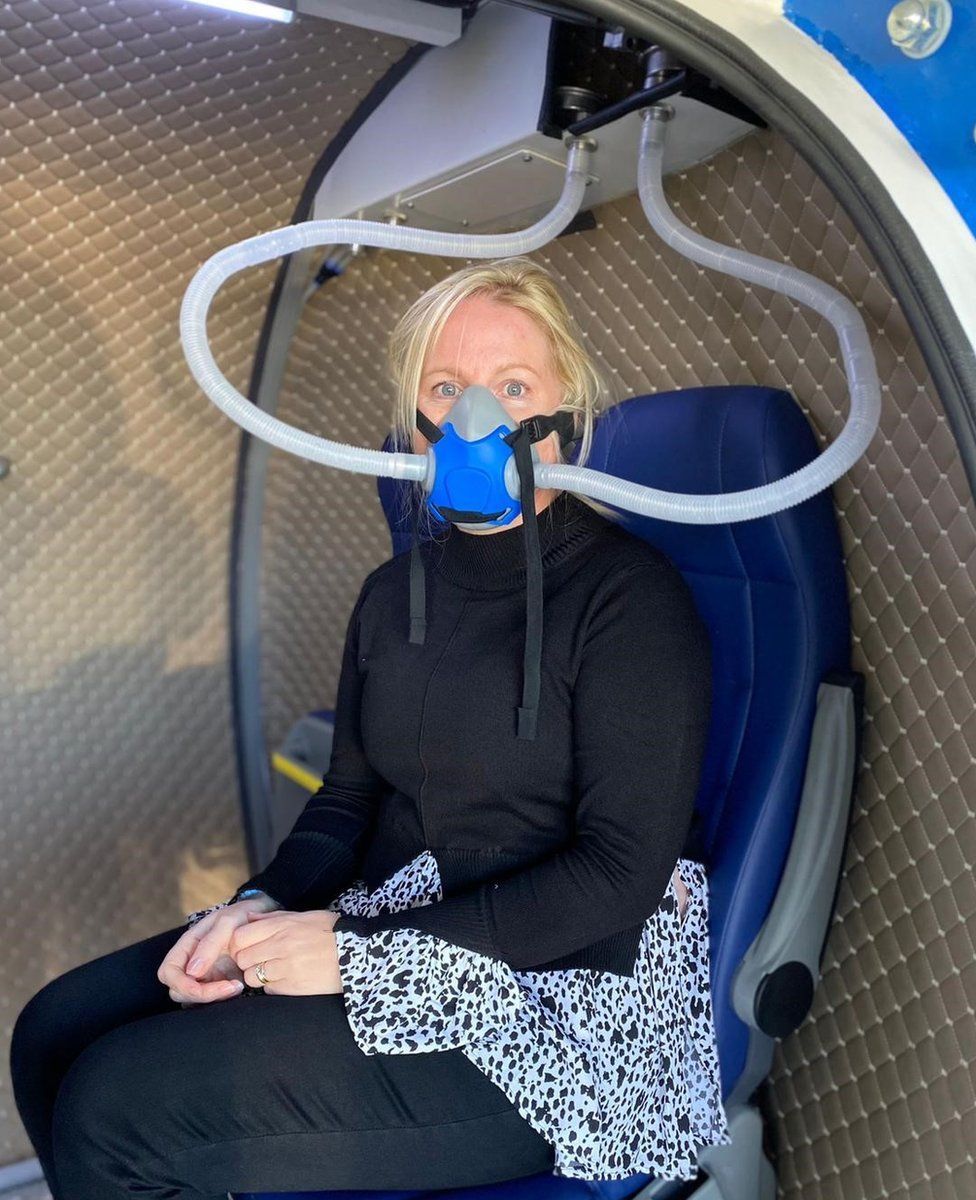 A woman who has suffered from long Covid for most of this year says treatment in a hyperbaric chamber has changed her life.
Midwife assistant Leanne Lawrence, 39, from Mintlaw in Aberdeenshire, caught coronavirus in January.
It left her bedridden with chronic fatigue and she feared she was dying.
But Leanne told BBC Scotland that within just two weeks of starting hyperbaric chamber treatment her health had been transformed.
Hyperbaric chambers are most commonly associated with treating divers with decompression sickness - the bends - if they surface too quickly, resulting in nitrogen bubbles forming in blood. However, they are also used for other conditions.
Patients breathe in pure oxygen instead of the 21% found in normal air, and the pressure increases the amount of oxygen that dissolves into the bloodstream and the body's tissues.
Long Covid is described as symptoms continuing for more than 12 weeks after an infection - both severe or mild - which cannot be explained by another cause.
One possibility is the infection makes some immune systems go into overdrive, attacking not just the virus but the person's own tissues.
Another theory is that fragments of the virus could remain in the body, possibly lying dormant and then becoming reactivated.
Leanne, a midwife assistant at Peterhead Maternity Hospital, caught coronavirus at the start of the year, before she had a chance to get vaccinated.
She said she had "the worst stomach pain" as Covid attacked her gastro system. Her husband Ian phoned for an ambulance.
"It was a bit like something out of ET - they came in with kind of space suits," she recalled.
"Ian and the two kids watched me leave in the ambulance - he thought he would never see me again."
Leanne, whose children are aged 11 and nine, was in hospital for four nights.
After being allowed home, she was bedridden for about 35 days.
"I couldn't do anything, I was absolutely floored," she said.
"The kids were poorly and I couldn't be their mum. Having a shower was the only thing I would do. I was so weak.
"Since having Covid it has left me with really brutal headaches, I have to be in a dark room, no noise.
"Also, I used to get really bad tremors in my hands, pins and needles all over, I lost a lot of my hair, and it stopped my menstrual cycle."
Leanne said that at one point she thought she was "slowly dying".
"It's almost like an invisible illness, but my husband and my kids had to live with it.
"It just went on for months and months and months."
Eventually, a hyperbaric chamber was suggested in support groups and she started private treatment.
Leanne said the effect was "unbelievable".
"My life changed within two weeks," she said.
"I can stay up all day, I don't have the heart palpitations, the pins and needles have stopped, I've no chronic fatigue."
She had not done any exercise this year - but a week ago, she was able to walk a mile with Ian.
"A mile does not seem a lot, but for me it was massive - holding hands, as cheesy as it sounds. It's baby steps.
"I get to be Mum again - it has changed my life."