Robotic boat surveys fish populations around North Sea oil platforms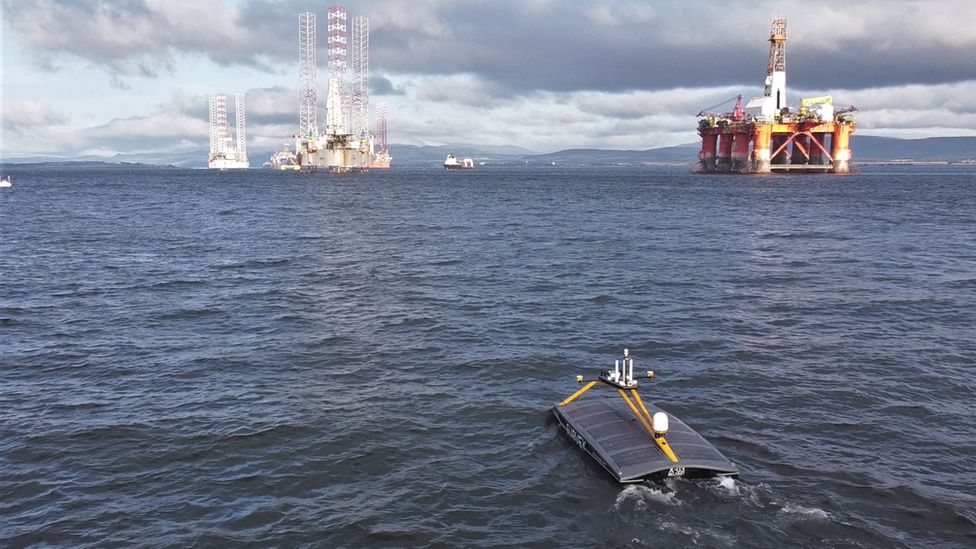 A robotic boat has been used to survey fish populations around oil platforms in the North Sea.
It is part of a project looking at the potential impact on marine ecosystems of decommissioning structures, being led by the University of Aberdeen.
The Uncrewed Surface Vessel (USV) used sonar to collect data on fish numbers around several oil platforms off Scotland's north east coast.
The information is now being analysed by the team.
Operated by ocean data company XOCEAN, the USV is about the length of car, so can get within 10m (33ft) of a platform, which is closer than a conventional boat.
Dr Joshua Lawrence, from the University of Aberdeen, described the survey as a "great success".
'Advance our understanding'
He said: "After months of planning, it was great to finally see the USV collecting data.
"It's amazing how this sort of technology reveals new opportunities to advance our understanding of these structures and their influences on the North Sea ecosystem.
"Previous work has suggested that fish aggregate up to several kilometres away from some of these structures, so we designed the survey to make approaches to the structures from 10km (six miles) away in each direction."
The next stage of the project will see Dr Dougie Speirs and Prof Mike Heath from the University of Strathclyde use the survey data to model the expected effects of a range of decommissioning strategies on the surveyed fish populations.
The project will run until 2023, and the team will be running similar surveys of more oil platforms using the USV next summer.