Deal could create 1,000 new green jobs for Glasgow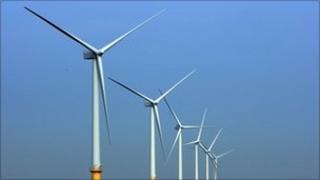 Up to 1,000 new jobs could be created after the energy giant Scottish and Southern (SSE) announced a tie-up with Mitsubishi Heavy Industries.
The two companies will collaborate on the development of low carbon technology, including offshore wind farms and carbon capture.
Up to 100 new highly skilled jobs will be created immediately at SSE's centre of engineering excellence in Glasgow.
SSE said it expected employment to rise significantly over the next five years.
Colin Hood, chief operating officer of SSE, said: "This agreement represents one of the most significant industrial partnerships to be established in Scotland since the heyday of North Sea oil - and low carbon energy represents Scotland's biggest economic opportunity since then.
"As the UK's broadest-based energy company, SSE has extensive interests and opportunities in low carbon developments, and our partnership with Mitsubishi should help us to make the most of them."
Scottish and Southern announced its plan to set-up a Centre of Engineering Excellence in Renewable Energy in partnership with the University of Strathclyde in October 2009, with more than 300 skilled professional jobs to be created by SSE over three years.
Important challenge
The new agreement is expected to lead to up to 100 additional new, highly-skilled, engineering-based jobs being created at the centre.
SSE said it expected employment to grow to about 1,000 over the next five years as other companies moved engineering-related jobs to the centre.
First Minister Alex Salmond said: "I am very pleased to welcome this exciting new partnership between Mitsubishi Heavy Industries, an industrial giant with historic links to Scotland, and Scottish and Southern Energy, the largest generator of renewable electricity in these islands."
Mitsubishi, one of Japan's industrial giants, can trace its roots back to a Scotsman, Thomas Glover.
The son of an Aberdeen coastguard, he emigrated to Japan in the mid-19th Century and some of the companies he set up in shipping and mining became part of the Mitsubishi organisation.
Ichiro Fukue, senior executive vice president of Mitsubishi Heavy Industries, said: "I am delighted to be working closely with SSE on the important challenge of moving towards a low carbon economy.
"The two great island nations of the United Kingdom and Japan are providing global leadership in this field, and it is very satisfying for me to be building on the links between MHI and Scotland that were established in the 1860s by Thomas Glover."