Defence giant BAE returns to profits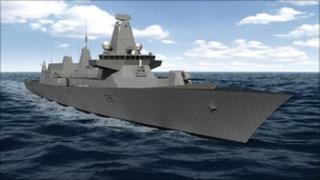 Defence contractor BAE Systems has reported a return to profit, making £618m in the first six months of this year.
The company made a loss of £82m in the same period last year after the acquisition of a US firm.
BAE employs nearly 5,000 people in Scotland including 4,000 at its shipyards in Govan and Scotstoun.
The group said it expected "a challenging trading environment as governments look for cost savings."
A spokesman said: "A substantial programme of cost reduction and efficiency improvements is already well under way within the group to address such issues."
The company which employs 107,000 people worldwide said it had already cut 3,300 jobs during the first half year.
During the same period, BAE, won a four-year £127m contract from the Ministry of Defence (MoD) for the new generation Type 26 warship.
Some of the work is being carried out on the Clyde.
Meanwhile production continues on the Type 45 programme.
Alan Johnston, managing director of BAE Systems' surface ships division, said: "The Type 45 programme is progressing well, as we continue to grow the support side of our business and a huge amount of progress has been made on our build programmes.
"We now have two of the superblocks of the new aircraft carriers in build at Govan and the third major block of the hull well under way in Portsmouth, with the diesel generators set to be installed in the coming weeks."