Oil company Dana Petroleum 'to meet South Koreans'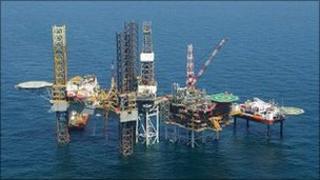 Oil explorers Dana Petroleum has reportedly agreed to meet the South Korean state oil firm, Knoc, to discuss a takeover approach.
Knoc has offered £18-a-share for Dana - valuing the company at £1.67bn.
Aberdeen-based Dana raised concerns over the bid because it said Knoc and its advisers had "failed to clarify questions on their funding".
Dana said it had repeatedly offered to meet Knoc's representatives but that propoal had not been accepted.
Reports have suggested Knoc is keen to acquire foreign companies to build up its oil production.
It is understood that Dana, which has operations in the North Sea, Egypt and Morocco, believes the £18-a-share bid is not a fair evaluation.
In a statement last month the company said the offer pre-dated "material recent developments in the company".
Dana has been urged by its biggest shareholder, Shroders, to engage with the South Korean company and consider the bid.
Last week a letter with guarantees from Asian banks that they would be prepared to back Knoc, was delivered to Dana.
The two sides will now meet later this week to discuss the offer.
South Korea is among the world's top oil and gas importers and has said it is committed to increasing its production by buying foreign companies.
Last year Knoc acquired the Canadian Harvest Energy company for £1.1bn but lost out on a bid to buy the Swiss oil explorer Addax Petroleum for nearly £5bn.