Oil company takeover talks stall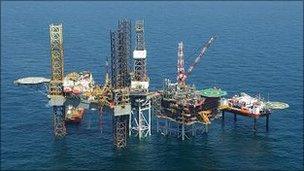 Talks about a Korean takeover of a large Scottish oil exploration company, based in Aberdeen, have broken down.
Dana Petroleum announced it had ended negotiations on an approach by the Korean National Oil Corporation, with a suggested price tag of £1.7bn.
The two sides were unable to agree conditions for opening the company's accounts for inspection by the Koreans.
Financial analysts said the state-run Asian company may now be preparing the ground for a hostile takeover bid.
Dana has extensive operations in the North Sea, Africa and the Middle East, while Knoc is an arm of the South Korean government, set up to provide energy security and now operating in 17 countries.
Both companies issued statements on Thursday, setting out the grounds for the impasse. Dana Petroleum set out meetings it has had, including one on 6 August in Calgary, Canada, at which senior figures discussed the conditions for taking the approach forward.
Dana Petroleum would only open its accounts for due diligence by Knoc on non-disclosure conditions which have not been detailed, but they are thought to include a pledge not to follow up with a hostile bid.
KNOC wanted the agreement to include a pre-condition that the board of Dana would recommend the offer at 1800 pence per share, which Dana directors refused to do. Shares closed on Thursday down 4% to 1630p.
Dana also claims that KNOC has refused to discuss the value of Dana's assets, believing the Koreans were failing to take into account progress on several drilling programmes, which the Aberdonians have highlighted over recent weeks. The refusal to sign the non-disclosure agreement came from KNOC on 9 August.
The Dana Petroleum statement said: "The board looks forward to clarification from KNOC regarding its current intentions in connection with its proposal". It said the Koreans are still being offered the chance to update their valuation of Dana assets.
The subsequent statement issued by KNOC said that it has already taken into account all the asset valuation issues raised by Dana chiefs.
It also noted drilling efforts that have not gone well, and that its 1800p offer had not been reduced despite currency fluctuations making the deal more expensive to the Koreans. The company said it is "considering its options".
Related Internet Links
The BBC is not responsible for the content of external sites.