Johnston Press returns to profit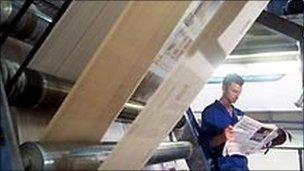 The company that owns The Scotsman and a chain of UK local papers has returned to profit despite falling sales and a continuing drop in advertising.
Johnston Press made a pre-tax profit of £26.1m in the six months to July, compared to a loss of £94.2m in the same period last year.
Advertising revenue continued to fall, although the rate of the decline has slowed down significantly.
The company has predicted that advertising will start to grow again.
The news sent the firm's share price up.
Even though Johnston is optimistic, its traditional newspaper business is still operating in a challenging market.
Circulations are continuing to fall. The Scotsman's circulation recently fell below 45,000 for the first time in decades, according to official industry figures.
Johnston says the rate advertising has been falling at is continuing to ease, giving it confidence it would hit its targets for the year.
Advertising revenue declined by 6.3% over the six months compared to a dramatic drop of nearly a third in the same period in 2009.
But some categories of advertising performed better than others.
Property advertising rose 12.6% but car adverts fell nearly 10% and job adverts by 16%.
Chief executive John Fry said: "As we move into the second half of the year, we have seen the improving trend in advertising revenues continue with total advertising in the first six weeks on a like-for-like basis only down 3.7%.
"These industry leading trends ... along with our continued focus on costs, efficiencies and debt reduction, give the board confidence, in the absence of a further deterioration in the UK economy, that the outcome for the Group in 2010 will be in line with current market expectations."
As well as The Scotsman and the Yorkshire Post, Johnston owns several local papers across the UK and Ireland including the Falkirk Herald - the weekly paper which the company grew out of.
Along with other Scottish publishers, it fought and won a move to allow Scottish councils to drop some statutory newspaper advertising and place public notices on the internet instead.
However some in the industry believe that another attempt to do this is inevitable within the next few years.
Related Internet Links
The BBC is not responsible for the content of external sites.