RBS to cut 400 Direct Line insurance jobs in Glasgow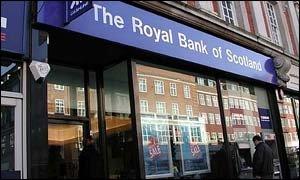 Hundreds of jobs are to be cut at the RBS-owned Direct Line insurance firm in Glasgow, with the closure of its main offices in the city within three years.
About 640 staff at offices in Atlantic Quay and St Vincent Street were called to a meeting to be told the news.
RBS said it would offer about 200 staff the option of moving to the firm's office in Cadogan Street.
In May, the bank said 2,000 jobs would go at its insurance arm, after the European Commission ordered it to sell.
Scottish Finance Secretary John Swinney said the decision was "hugely disappointing".
He added: "The Scottish government has been engaged with RBS in an attempt to minimise the number of redundancies in Glasgow.
"The bank has been able to create 200 new job opportunities in the claims centre of excellence in Cadogan Street, which will reduce the number of redundancies from around 600 to around 400.
"Although these will take place over a period of time and the bank has pledged to avoid compulsory redundancies where possible, this is still a significant setback for Glasgow's financial sector."
Rob MacGregor, national officer with the union Unite, said: "RBS staff are continuing to pay the price for the bank's failure with their jobs.
"Unite is calling on RBS to come clean with staff and clarify the impact of the restructuring and end the uncertainty.
"We will hold RBS to account over any compulsory job losses that result."
A statement from RBS said: "We announced in May that we were looking to consolidate our UK office network as part of our plans to achieve efficiencies across our insurance business as we prepare it for sale as mandated by the EU."
Related Internet Links
The BBC is not responsible for the content of external sites.