Snow hits profits at Goal Soccer Centres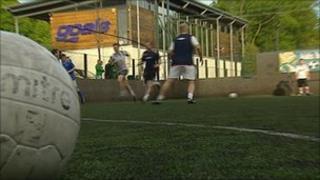 East Kilbride firm Goals Soccer Centres said "exceptional snow falls" wiped £800,000 from the company's profits in the first six months of the year.
Goals made pre-tax profits of £2.7m in the first half - a drop of more than £1m on the same period last year.
Goals operates 37 five-a-side centres in the UK and a joint venture in California. It has earmarked 40 more sites to continue its expansion.
Although the group saw a fall in profits, overall sales grew by 3%.
The football World Cup boosted the company's performance in some areas.
Keith Rogers, managing director of Goals, said: "We took advantage of the opportunity that the World Cup presented to increase interest in our key product areas.
"This has resulted in increased children's parties and corporate events during the period and is now being reflected in an improvement in core football."
He added: "Whilst the UK consumer outlook remains uncertain we are confident that results for the year to 31 December 2010 will show continued growth and will be within the range of current market expectations."