Scottish business 'virtually' going global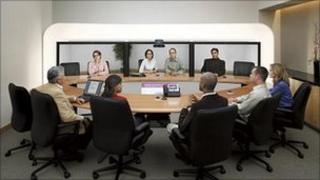 It sounds like something from Star Trek. The life-sized images of four people appear on the other side of the boardroom table.
The video conference has begun.
Next week the first major event using new cutting-edge technology will showcase at the University of Edinburgh's School of Informatics.
It will link up expert panels in Hong Kong, Mumbai, New York and Toronto.
The life-sized high-definition images will be beamed into the room in front of 200 or so delegates at the annual Global Ambitions Conference.
The expert panel will include senior executives from HSBC, Standard Life and Diageo.
The event is organised by the international trade body, SCDI.
SCDI chief executive Lesley Sawers said: "These highly-connected representatives, already rich in knowledge and experience of Scotland's business presence in key markets, will interact with our core audience in Edinburgh to share perspectives and discuss pointers to Scotland's future success."
She added: "There are also substantial networking opportunities for businesses due to the high calibre of senior people in the core audience."
Making savings
With the growth in emerging markets, the need to easily communicate and collaborate with businesses abroad has become more important.
The economic recession has also helped drive technological advances in video conferencing because it has forced many companies to consider using it instead of travelling.
It is also regarded as a greener option for many firms.
Cisco which has developed the Telepresence conferencing system, which will be used at the event in Edinburgh next week, said it had saved $615m on travel alone and more than 332,000 tonnes of emissions.
The company said it believed the technology could shrink the global market place for Scottish businesses, so they could tap into opportunities which were previously out of reach.
Donald McLaughlin, director for Cisco Scotland, said: "By levelling the global playing field, Scottish organisations can compete just as effectively as local players.
"Telepresence is one of the most striking examples of collaboration technology and makes you feel like you are in the same room as someone on the other side of the world.
"However it is important to stress that even the smallest businesses can now access a wide range of tools which allow communication and collaboration across locations at a very low cost."