Pick-up in Scottish retail sales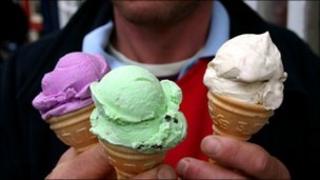 Sales in Scotland's shops picked up last month, according to figures from the Scottish Retail Consortium.
Total sales rose by 2.4% and like-for-like sales grew by 0.1% in August - the first increase for five months.
The warm weather helped to encourage some spending and food sales saw their best year-on-year growth in six months.
However despite the slight upturn, Scotland's shops are lagging behind those in the rest of the UK and the consortium said shoppers were cautious.
David McCorquodale, head of retail in Scotland for KPMG, which sponsors the survey, said: "People remain worried about how they will personally be affected by the, soon to be announced, public sector cuts.
"They are likely to have a more pronounced impact on Scotland than the rest of the UK due to the higher proportion of the population employed in the public sector."
He added: "Retailers will be anxious to see more positive indicators in the coming weeks as they order stocks in for the Christmas season."
Retail concerns
Unlike the rest of the UK, Scotland's shops did not benefit to the same extent from a back-to-school spending spree.
Figures for the whole of the UK showed that like-for-like sales, which strip out the impact of sales from new stores, rose by 1% against a year earlier.
On a total sales basis, sales rose by 2.8% compared with a year ago.
Fiona Moriarty, director of the Scottish Retail Consortium, said: "The longer-term concern for retailers is that consumer confidence is weaker in Scotland than other parts of the UK.
"Many people already feel they have less money available and that that will get worse not better."