Big rise in Scottish unemployment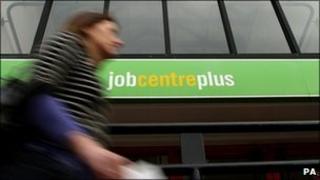 Unemployment in Scotland rose by 25,000 to 239,000 between May and July, according to official statistics.
This represented 8.9% of the workforce - higher than the UK average unemployment rate of 7.8%.
The number of people out of work and claiming benefit totalled 136,100 in August - a rise of 700 over the month.
In the UK as a whole unemployment fell by 8,000 to 2.47 million, while the claimant count rose by an unexpected 2,300 last month to 1.47 million.
Meanwhile, separate figures showed a fall in the number of people working in Scotland's public sector.
It still employs 606,400 people, but the overall figure dropped by 8,100 between May and August this year, compared to the same period in 2009.
The Scottish Secretary Michael Moore said: "These figures show the heavy human price that Scotland is paying for the last government's economic incompetence."
He added: "The coalition inherited rising unemployment and a record peacetime deficit, and our challenge is to turn those problems around.
"We are doing that with decisive action to restore our economy and, in turn, help Scotland's men and women to find quality, lasting jobs."
The number of people employed in Scotland also rose over the three months from May to July by 25,000, and fell by 40,000 over the year to stand at 2,455,000.
The employment rate increased by 0.7% - the second consecutive rise, and the largest quarterly increase in Scottish employment since the beginning of 2007.
Scotland's Enterprise Minister Jim Mather warned that spending cuts posed a significant threat to the country's fragile recovery.
He said: "While the employment rise is obviously an encouraging sign - and shows that the Scottish government is right to prioritise action to support jobs, skills and training - the very unwelcome rise in unemployment highlights that recovery is fragile, and is threatened by UK government spending cuts that are too quick and too deep."
CBI Scotland's assistant director, David Lonsdale, said recent figures had shown that the recovery was "fragile".
"This reinforces the need for government at all levels to put economic growth at the heart of their upcoming spending plans, protecting GDP-enhancing investments in infrastructure and spending which promotes business investment and exports," he said.
'Wrong direction'
Liz Cameron, chief executive of Scottish Chambers of Commerce, said Scotland's economy needed to "regain momentum".
"The fact that the Scottish unemployment rate is now far in excess of the UK average is very worrying indeed, particularly as Scotland is likely to be heavily exposed to public sector spending cuts over the next few years," she said.
"Unemployment has been falling in the rest of the UK for most of this year, but here in Scotland the numbers are heading in the wrong direction."
Scottish Trades Union Congress general secretary Grahame Smith said: "The ongoing and steep rise in unemployment is a social and economic disaster for Scotland.
"Eventually the penny might drop with politicians that the country is experiencing a crisis of high and rising unemployment, low growth and low revenues."