Irn Bru sales increase in England and Wales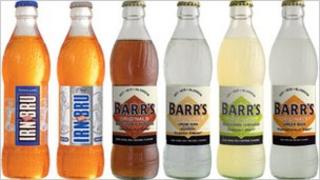 Increased sales of Irn Bru in England and Wales have helped profits at the drinks company AG Barr.
The Cumbernauld-based firm announced that half year pre-tax profits had risen by 18.8% to £16m.
Irn Bru brand revenue rose by 8%, which the company said was down to increased distribution and marketing, especially in the north of England.
AG Barr's Rubicon brand saw sales rise 37% after sponsorship deals with cricket events.
A statement from the company said: "The Barr brand continued to make excellent progress in the period, building on the prior year's strong sales performance as the brand moves into new geographies and new channels outside of its Scottish heartland.
"As part of our longer-term strategy, and despite the continued economic uncertainty and commercial challenges facing us, we have once more increased marketing investment across all of our core brands as we aim to invest now to further develop brand awareness and create future consumer demand."