Conference business for Glasgow reaches £130m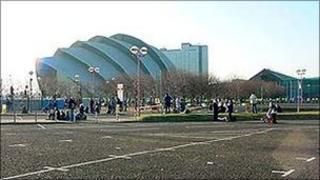 The value of conferences won by Glasgow this year is set to top £130m.
The city is currently hosting the World Parkinson Congress.
However, there is a warning from Glasgow's tourism body that competition from other major centres is getting increasingly fierce.
China is opening a new convention centre at the rate of one a month - and in the UK both London and Liverpool have opened new facilities.
Business tourists are extremely lucrative for Glasgow and the Scottish economy.
On average they spend almost double that of leisure visitors.
The 3,000 or so delegates to the World Parkinson Congress at Glasgow's SECC are expected to generate about £5m.
Hotels in the city are almost full.
Dominic McVey, of Greater Glasgow Hotels Association, said: "We're very, very busy because of the conference.
"We're very, very fortunate that Glasgow is a fantastic destination or venue for conferences and coupled with the SECC and the marketing bureau, we've had great success in attracting many, many conferences and we're geared up for them."
Conferences of the scale of the World Parkinson Congress take years to plan with countries around the world pitching for the chance to host the event.
Organisers of the current event at the SECC narrowed the choice down to between London and Glasgow in 2007 and visited each city to make a final decision.
Increasing competition
Eli Pollard, congress manager at the World Parkinson Congress, said: "It's a wonderful city for having a meeting.
"It's the right size for our congress - we wouldn't get lost as we would have perhaps in a bigger city and I would say the city of Glasgow was welcoming to us from the very beginning, amazingly helpful with the idea of promoting the meeting."
Edinburgh and Glasgow rank second only to London in the UK in terms of the number of international association conferences but competition is increasing in the meetings market.
Scott Taylor, chief executive of Glasgow City Marketing Bureau, said: "It's very competitive. For instance in China they're building and opening a convention centre one a month."
He added: "We've seen London really growing its presence in the market through Excel, Liverpool with its new convention centre and Dublin also - so its a very competitive market."