Stagecoach re-acquires London bus company for £53m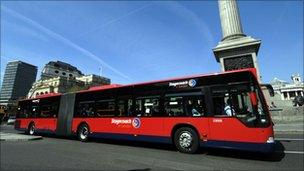 Perth-based transport firm Stagecoach has bought London's third largest bus company for £53m.
The East London Bus Group has a 15% market share, operated under contract to Transport for London. It has 10 depots and operates about 1,400 buses.
It belonged to Stagecoach until 2006, when it was sold. However, the group has since entered administration.
Stagecoach boss Brian Souter said he "relished the opportunity" of the new acquisition.
The chief executive said: "We operated a successful bus business in London for several years and are pleased to re-enter the London bus market at what we consider to be an attractive price.
"Whilst we do not underestimate the challenges we face in driving up the financial performance of the acquired business, we relish the opportunity to apply our expertise in managing UK bus businesses to create value from a turnaround situation."
Related Internet Links
The BBC is not responsible for the content of external sites.