Eye test firm, Optos, unveils new device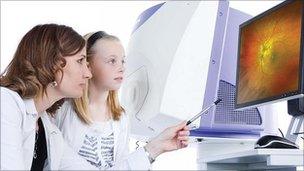 The retinal imaging company, Optos has unveiled a new device to help detect changes at the very edge of the eye.
The Fife-based firm sells eye-testing machines which can detect high blood pressure and some cancers.
It said its new 2000Tx device will help physicians discover evidence of disease and guide treatment decisions.
The new machine will be manufactured in Scotland and should be on sale in the early part of 2011.
Roy Davis, chief executive officer of Optos, said: "Through our work with leading researchers we have further proven the value our technology provides in detecting diseases and pathologies that may first be seen in the periphery of the retina and we look forward to the launch of our 200Tx model in Q1 2011."
Related Internet Links
The BBC is not responsible for the content of external sites.