Scots retail sales remain weak, says retail body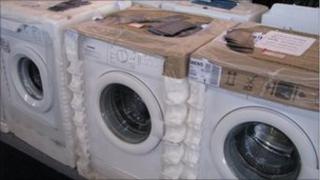 Retail sales remained weak in Scotland in September, figures from the Scottish Retail Consortium show.
Total sales were 2.3% up on a year ago while the like-for-like figure, which strips out the effect of new store openings, fell by 0.4%.
Sales of clothes, footwear, furniture and homeware all fell, with big ticket items the hardest hit.
The consortium said that concern about public sector cuts had made consumers cautious about spending.
Fiona Moriarty, director of the Scottish Retail Consortium, said: "Scottish consumer confidence remains lower than the rest of the UK. In fact, there's only been one month this year when customers here were more positive.
She added: "In September, apprehension about public sector job cuts in the wake of the Comprehensive Spending Review and a widespread pay-freeze saw demand for non-essentials fall significantly.
"The sluggish housing market continues to put the brakes on furniture, homewares and DIY purchases."
The 0.4% decline in like-for-like sales in Scotland in September compares with a 0.5% increase in the rest of the UK and is the fifth time it has fallen in the past six months.
Inflationary pressures
The like-for-like figure, which excludes any spending in stores that opened or closed in the past year, is often used to measure how the industry is performing overall.
David McCorquodale, head of retail in Scotland for KPMG which sponsors the survey, said: "From a retailer's point of view, the decrease in like-for-likes has possibly been softened by inflationary pressures as cost increases felt in commodities such as wheat and cotton and in Chinese manufacturing work through to shop prices.
"That said, inflation and austerity are not the most welcome bedfellows in the lead up to Christmas."