Transport tycoon Brian Souter's investments rise by 41%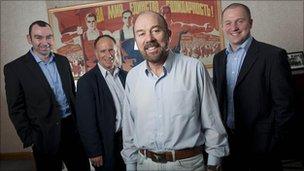 The transport tycoon Brian Souter has revealed the value of his investment portfolio has risen by 41% over three years totalling £400m.
Souter Investments was set up in 2006 and the bedrock of its portfolio is Stagecoach Group.
However, it also has stakes in many other firms including the Sunseeker luxury yacht group and the Neoss dental implant company.
The investment group said it did not invest in alcohol, gambling or tobacco.
It also avoided companies dealing in armaments.
This is the first time Mr Souter has revealed the details of his investment portfolio.
He said he had "historically been discreet" about his family's investment portfolio but now thought the time was right to "report on activities on a regular basis."
Mr Souter said his investment company's performance over the past three years compared well against Britain's largest quoted companies.
He added "This performance is particularly encouraging given that it is after we have paid all living and management expenses, corporation and income tax, and made charitable donations of £20m."
In this first report, Souter Investments revealed that it had taken a decision to reduce its commitment to commercial property activities.
It has a wide range of investments from luxury goods to financial service to life sciences.
Many of the companies like the technology firm, Elonics and the life science group, CBX Biosciences, are based in Scotland.
However, the group has investments as far afield as New Zealand.
Mr Souter said he believed that a double-dip recession in the UK was now unlikely although he predicted there would be liquidity problems for a while with "cash remaining king" for some time.
He said: "It is likely that debt facilities available to small and medium sized companies will remain in short supply for some time to come."
Andy Macfie who set up the investment firm with Mr Souter four years ago said he was confident of the future.
He added: "We have a substantial war chest available to us and look forward to continuing to invest in sound companies with good prospects, whilst remaining alive to opportunities in other asset classes."
Related Internet Links
The BBC is not responsible for the content of external sites.