'Urgent action' call on broadband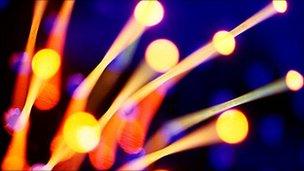 A leading think tank has called for urgent action to be taken to deliver high-speed internet access to homes and businesses across Scotland.
The Royal Society of Edinburgh (RSE) said Scotland was falling behind its international competitors when it came to delivering high-speed broadband.
The society called for an "optic fibre backbone akin to the trunk roads of our transport network".
It said that the capital cost would be about £100m.
The Digital Scotland report said: "For reasons of social inclusion and equality of opportunity, Scotland cannot afford a widening digital divide."
Prof Michael Fourman, chairman of the report team, called on Scotland to act to increase the volume and speed of access to the internet.
He added: "We should not, and cannot, rely on the UK government to deliver this for us.
"The Scottish government and Scotland's local authorities must work together to drive forward the digital agenda, as they are the bodies that hold many of the levers to do so, such as planning regulations, procurement and business rates."
The RSE said that Scotland had the lowest percentage of households with broadband in the UK - at 61%, compared with 73% in England, 70% in Northern Ireland and 64% in Wales.
The report called for a Digital Scotland Trust to be established to raise finance, procure, operate and maintain the core digital infrastructure.
Prof Fourman said: "Communication is the lifeblood of society. Scotland's future depends on having in place an effective digital infrastructure that will underpin a successful economy, vibrant culture and strong communities."
Related Internet Links
The BBC is not responsible for the content of external sites.