Anti spam firm Bloxx named fastest growing in Scotland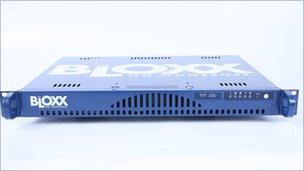 The Livingston-based web and email filtering company, Bloxx, has been named as the fastest growing in Scotland.
The accountants Deloitte has placed Bloxx at 19th in a list of the top 50 fastest growing UK companies.
The company has grown by 1,262% over the past five years and now has a customer base of 2.5 million users.
Bloxx developed technology which allows web pages or e-mails to be accurately classified and filtered in real-time.
Bloxx chief executive officer Eamonn Doyle said: "The IT security market is fiercely competitive and continues to increase in complexity as the threat landscape evolves.
"We have built a strong business on providing advanced security products that deliver significant customer benefits at prices substantially lower than the larger vendors."
Among Bloxx's customers are EMI, Monarch Airlines, Selfridges, London Symphony Orchestra and Robert Gordon University.
Two other companies made the top 50 list.
They were the flight search engine firm Skyscanner at 30, and the biotech company Clintec International, who entered the list at 46.
The overall winner was the London-based Mobile Interactive Group with a growth of 26,885%.
Mike McGregor, head of technology, media and communications for Deloitte in Scotland, said: "In spite of the challenging financial market conditions, the 2010 Deloitte Fast 50 shows that growth rates are still possible, with the mobile technology and software sectors showing particular strength.
"It's encouraging to see Scottish companies making the top 50."
Related Internet Links
The BBC is not responsible for the content of external sites.