Clydesdale and Yorkshire banks see lending fall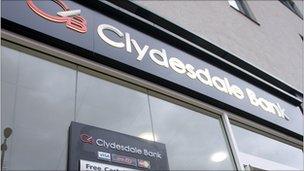 Clydesdale and Yorkshire banks have seen their total lending fall over the past year.
The Australian-owned lenders reduced their exposure to commercial property and unsecured loans, and increased their pricing in interest rates.
Average gross loans and acceptances fell by £400m to just below £33bn during the year.
However, it was stressed with full-year figures to 30 September that there had been £4.7bn in new lending.
This keeps Clydesdale and Yorkshire on course for their £10bn two-year target.
National Australia Bank (NAB) issued figures that showed a 53% increase in pre-tax earnings for its UK operation, rising to £164m.
They showed Clydesdale Bank and Yorkshire Bank increased deposits by 11%, more than double the industry average rate of 4.8%.
Provisions for bad debt fell 18% from the year the recession hit hardest, reaching £74m, and those in mortgage arrears fell slightly.
In its mortgage business, repossessions rose from 78 to 96 homes, though it was emphasised this was low compared to the size of portfolio.
The twin banks increased their liquid balances above £10bn, leaving NAB's UK operations "well placed to capitalise on future growth opportunities".
Lynne Peacock, the UK chief executive, said support for customers and a prudent approach to lending had proved effective.
"We are attracting growing numbers of small and mid-corporate trading businesses and expanding our mortgage book which is greatly encouraging," she continued.
"As a result of our strategic focus, a significant step forward has been taken towards restoring profitability with a 53% increase in pre-tax cash earnings.
"This was achieved whilst we further strengthened and re-shaped our balance sheet, maintained a strong capital position and supported our customers through challenging times.
"While national economic recovery will provide further challenges, Clydesdale and Yorkshire Bank is in a strong position and continues to send a clear message to new and existing customers that they have real choice and support in the market."
The joint UK operations of NAB have more than 2.7 million customers, mainly in Yorkshire and Scotland but with Integrated Financial Solutions centres aimed at businesses in other parts of the UK.
There are 8,300 full-time equivalent staff, fewer than half of them in retail, and more than half in England. Of 339 retail branches, 187 are Yorkshire branded and 152 are Clydesdale.
Related Internet Links
The BBC is not responsible for the content of external sites.