Contract for cash machine ad firm i-design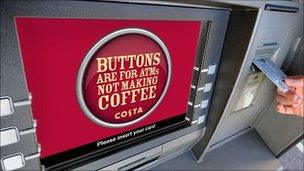 Cash machine advertiser i-design has won a new contract with Europe's largest independent provider of ATM solutions YourCash.
The deal will see i-design moving into the Netherlands for the first time.
The Fife company has exclusive rights to run third party advertising on about 500 YourCash ATMs, 300 in the UK and the remaining in the Netherlands.
This latest contract has boosted the number of i-design's network of ATMs to 9,900 up from 5,600 last year.
i-design has developed software atmAd which allows ATMs to carry adverts.
Ana Stewart, chief executive officer of i-design, said: "The roll-out of atmAd on the YourCash estate offers an attractive proposition both for advertisers seeking to deliver brand messages on a highly targeted basis and for YourCash, by generating additional revenues.
"We look forward to building media revenues with YourCash, both in the UK and the Netherlands, which is a new territory for us."
Related Internet Links
The BBC is not responsible for the content of external sites.