Scottish hotel sector remains 'buoyant'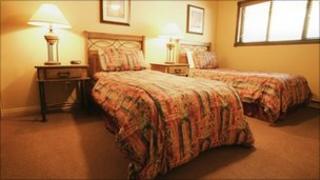 The hotel sector remained buoyant in September and showed a rise in occupancy and rooms yield, a new report has found.
The report from business advisers PKF also found that occupancy levels rose 4.8% across Scotland, compared with a rise of 6% in England.
Occupancy levels for Aberdeen and Glasgow fared well, while Edinburgh saw its rooms yield rise by 5.2% to £87.23.
This was the second highest figure outside London and after Bath.
Alastair Rae, a partner in the real estate and hospitality sector at PKF, said the figures revealed a mixed performance for Scotland's hotel sector during September.
"September saw increases in occupancy and rooms yield in all parts of the UK which is unusual," he said.
"This may have been a last fling for leisure customers coupled with later annual holidays leading to a strong performance.
"Indeed, there must be many in the sector who are surprised at the performance of the market this year given the gloomy outlook at the beginning of 2010."
But sounding a cautious note, he added: "It is important not to be complacent as the impact of the comprehensive spending review will start to feed through the economy, resulting in both job losses and, perhaps, a decline in consumer confidence."