Jobs boost at wind turbine maker, Gaia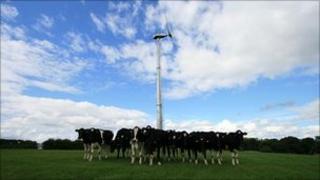 A company which makes small wind turbines has announced it is to set up a production hub in Glasgow, creating 50 jobs.
Gaia-Wind develops and supplies small wind turbines, typically for farms and small businesses.
The firm said the £5m investment would help it expand and export more.
Managing director Johnnie Andringa said: "This will be more than a simple assembly line, it will be the global hub for a rapidly growing business."
The 50 jobs being created will include highly-skilled positions in research & development and quality assurance.
The company said its new facility would handle the assembly, test and distribution of more than 250 small wind turbines in 2011, which is expected to rise to 2,000 units per year over the next few years.
Gaia said it had recently established itself within the US and that it expected to export 40% of its turbines by 2012.
Scottish Enterprise chief executive Lena Wilson said: "Gaia-Wind is exactly the kind of ambitious company we are looking to invest in Scotland's fast-growing renewables sector.
"The company's decision to locate its production and worldwide distribution centre in Glasgow, confirms Scotland's reputation as a globally competitive location for companies in this sector."