Medical firm Omega Diagnostics reports profits surge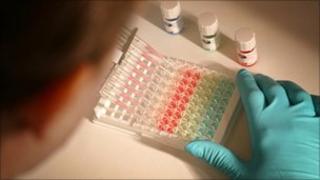 Medical testing company Omega Diagnostics has reported a surge in revenue and profits in the six months to the end of September.
The Alva-based firm saw revenues rise by 15% to £3.3m, while pre-tax profits soared by 53% to £403,000.
Omega specialises in food intolerance testing and tests for infectious and autoimmune diseases.
The AIM-listed firm is also looking to position itself in the global, mainstream allergy testing market.
Earlier this month, it agreed to buy German lab-testing firm Allergopharma Joachim Ganzer, which produces allergy testing kits for medical practitioners.
In reporting the latest interim results, Omega chairman David Evans commented: "Overall, the company is now positioned to transform itself into a leading group in the areas of allergy testing and food intolerance and whilst we recognise the challenges that lie ahead, the medium to long term prospects for the company remain very positive."
Omega currently operates in about 100 countries.