Glasgow firm Aggreko acquires US power company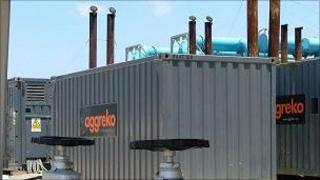 Power company Aggreko has boosted its presence in North America by buying a leading power solutions provider for $26m (£16.6m).
The Glasgow-based firm said it had acquired Northland Power Services, which works with the oil and gas industry from its base in Wyoming, USA.
Northland has forecast revenues for 2010 of about $12m (£7.6m).
The acquisition will take the number of Aggreko employees in North America to more than 800.
The oil and gas market is a key area of focus for Aggreko, both in North America and worldwide.
Aggreko already provides specialist power and temperature control services to the sector in Russia, Asia, the Middle East, the North Sea and off-shore Brazil.
In North America, Aggreko serves production and exploration customers in the Gulf of Mexico, Texas and Louisiana, and in 2008 acquired Power Plus Rentals and Sales in Alberta, which enabled it to serve the Canadian market.
Aggreko said the acquisition of Northland would give the firm a strong presence in a fast-growing part of the market.
Rupert Soames, chief executive of Aggreko, said: "This acquisition gives Aggreko an opportunity to grow in an important sector and develop our relationships with customers in the unconventional oil and gas markets."