AG Barr of Cumbernauld reports rise in revenues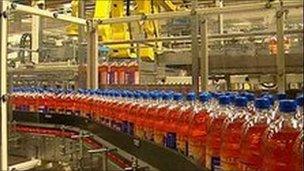 Soft drinks group AG Barr has reported a leap in revenue in the last quarter as it continues the push into markets in England and Wales.
The Cumbernauld-based firm said revenue increased by 6.4%, compared to the same period last year.
In a statement, Barr warned prices for raw materials, such as sugar, were volatile and "trending upwards".
But it said it remained confident of delivering its business plans for the full year.
In September, the company said increased sales of Irn Bru in England and Wales had helped profits, with Bru brand revenue rising by 8%. Barr said that the rise then was down to increased distribution and marketing, especially in the north of England.
In its latest statement, the firm said manufacturing investments at its Cumbernauld plant were "well advanced", and supply chain changes were now in place to allow for the planned closure of its Mansfield site in Nottinghamshire early in 2011.
Related Internet Links
The BBC is not responsible for the content of external sites.