Fife medical firm rolls out 'skin cancer plaster'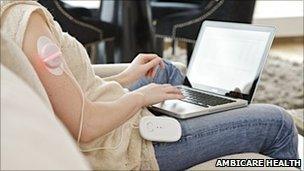 A skin cancer treatment developed by Scottish medical firm Ambicare Health is to be rolled out across Europe after the company secured distribution deals.
The company said its Ambulight PDT product will now be distributed in seven European countries.
Ambulight is a light-emitting sticking plaster used in photodynamic therapy (PDT) for treating non-melanoma skin cancer.
The move comes after the Fife-based firm secured £1.7m in funding.
Cash was raised through Longbow Capital, with additional funds coming from the Scottish Venture Fund, DC Thomson and private individuals.
The wearable device, which delivers treatment directly to a skin lesion site, will be distributed under exclusive agreements in Belgium, the Netherlands, Luxembourg, Greece, Cyprus, Italy and France.
Gary Conroy, sales and marketing director of Ambicare Health, said: "PDT has been growing as an international treatment for non-melanoma skin cancer and we are delighted that our innovative Ambulight PDT will now available across Europe through our distribution partners.
"The Ambulight PDT will offer patients in those countries the option of having a convenient skin cancer treatment delivered in a local family doctor or outpatient clinic setting without the lifestyle impact and downtime often associated with hospital cancer treatment."
Ambicare is a spin-out of Dundee's Ninewells Hospital and St Andrews University.
Related Internet Links
The BBC is not responsible for the content of external sites.