ATM ad firm i-design cuts its losses by 13%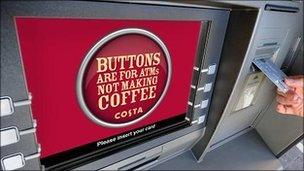 Cash machine advertiser i-design has cut it losses by 13% to £962,000 and said after a challenging first half of the year it was positive of the future.
The Fife-based company has developed software called atmAd which allows ATMs to carry adverts.
During the year the group won contracts in the US, South America and the Netherlands.
These boosted the number of i-design's network of ATMs to 9,900 up from 5,600 last year.
James Faulds, chairman of i-design said: "With our unrivalled ability to enable ATM owners to unlock the marketing potential of their networks, both to communicate more closely with their own customers and to generate new revenues through third party advertising, we remain positive about the group's growth prospects."
Related Internet Links
The BBC is not responsible for the content of external sites.