Scottish cruise passengers could hit one million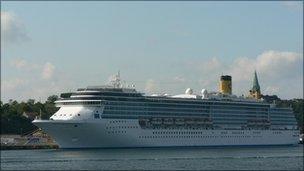 Scotland could see a four-fold increase in the number of cruise passengers visiting its ports over the next 20 years, according to an industry study.
The research has predicted passenger visits could reach one million.
However the Cruise Scotland study said dockside facilities and the tours on offer needed to be improved.
Scotland has nearly 40% of the UK's cruise business, with 250,000 people landed mainly at Invergordon, Greenock, Edinburgh and the northern isles.
Ten years ago, there were only around 45,000 cruise passengers arriving in Scotland.
The report, commissioned by the cruise industry, showed that Scotland lagged behind the growth rate of the wider northern European market, which has expanded recently at nearly 10% per year.
With new cruise ships becoming much larger, the potential to tap that continued growth will require bigger berthing facilities and a better range of tours and attractions once passengers disembark.
The study said that of the two ports now able to take big cruise ships, Invergordon does a big trade in bus tours in search of Nessie, while at Greenock, there is no tour offered of Burns country or a golf trip to Turnberry, so one big attraction is the fish and chip shop near the dock gates.
At Greenock, it was noted that Germans were more willing to buy tours, but British and American passengers have low uptake. The length of a bus tour from Inverclyde to Edinburgh was seen as unattractively long.
In Orkney and Shetland, the study identified a shortage of coaches with which to transport passengers, despite signs of strong demand for trips.
The study calculated that both island groups could increase their earnings from cruise ships from £2.5m to £6m per year, increasing employment from 55 to 132 full-time jobs.
Kirkwall in Orkney is limited in size to taking only about 58% of the world's cruise ships, while Lerwick in Shetland can take only 50%, meaning only 15% of potential passengers.
At Leith, which has a liner terminal, the length of berthing is limited, so larger ships visiting Edinburgh are required to anchor near South Queensferry and take passengers ashore by tender.
Other ports with limited facilities but seen as having potential include Aberdeen and Peterhead, Oban, Portree in Skye, Scrabster in Caithness, Stornoway on Lewis, and Ullapool and Fort William in north-west Scotland.
The total value of cruise liners to Scotland is estimated at £32m, assuming a £100 value per passenger per stop, and £400 where passengers join and leave their ships.
The consultants report for the Cruise Scotland industry body suggests £100m of investment is needed, £80m of that in improved berthing and buildings.
That includes £24m at Greenock and £9m at Invergordon, while investment is also proposed in trained staff to handle passengers and £1.5m in coaches for Orkney and Shetland.
Growing markets which Scotland could target include southern Europe, such as Italy and Spanish passengers, while tapping into the Scottish diaspora in Canada.
Cruise Scotland chairman Richard Alexander commented: "The cruise sector has tremendous potential to create jobs, make a much bigger contribution to the economy and to help Scotland meet its growth targets for tourism.
"Realising the full potential will require investment over the long term. We need to take the challenges and opportunities on board and work together to make the most of our ports, large and small, and the multitude of first-class attractions in an expanding international market."
Related Internet Links
The BBC is not responsible for the content of external sites.