The Scotsman newspaper sales dip to new low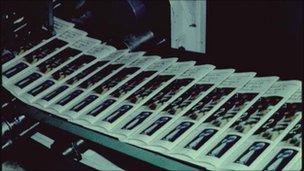 Sales of The Scotsman newspaper have slipped to their lowest level in modern times, according to the latest figures.
The Scotsman's sales figure in November was 42,829 - slightly worse than the previous low in July, which is always a bad month for newspaper sales.
Its Glasgow rival, The Herald, recorded sales last month of 52,736 - its second worst figure in recent decades.
As recently as January 2007, The Herald sold 72,000 copies while The Scotsman sold more than 60,000.
The figures - provided by industry body ABC - chronicle the continuing circulation difficulties facing most Scottish and UK national newspapers.
While the Herald and Scotsman have seen their sales drop close to record lows, there will be some relief that there was only a small drop between October and November.
But the story was different at The Herald's sister title the Sunday Herald.
Its sales fell from 42,289 in October to 41,464 in November - possibly in response to a price rise from £1 to £1.30.
Rival Scotland on Sunday - which cut its price temporarily in some areas - saw a rise from 53,626 to 55,552.
Elsewhere, the Daily Record saw its total sales fall close to 300,000 - the figure, which includes some 14,000 copies sold south of the border and abroad, was 303,031.
The Scottish edition of the Daily Express - which has also reduced its price - sold 69,917 - a rise of almost 2,000 on last November when its price was higher.
However, it still lags far behind its rival the Daily Mail which sold 112,404 Scottish copies.
The November sales figures cover the period up to November 28, before most of the country was affected by severe weather.
December is often a bad month for newspaper sales because of the holidays.
However, it is possible that this December may see disappointing figures as people staying off work because of bad weather may not have bought a paper while some titles have experienced localised distribution problems because of road closures
Related Internet Links
The BBC is not responsible for the content of external sites.