Greyhound buses to operate in Scotland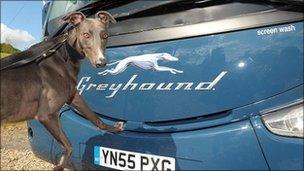 The world famous Greyhound bus brand has announced that it is to begin operating in Scotland from the beginning of next year.
Aberdeen-based transport firm, First Group, bought the North American Greyhound brand in 2007 and started services in England last year.
It plans to run three coaches from Glasgow to London.
Greyhound began life in the United States in 1914 and now transports more than 20 million passengers each year.
The three Scottish coaches, in line with Greyhound tradition, will be named after women in popular US songs.
"Hello Dolly", "Long Tall Sally" and "Suzy Baby" will start transporting passengers overnight from Glasgow to London from January 10.
Alex Warner, managing director of Greyhound UK, said: "Entry to the Scottish market has been a key strategic aim since we brought Greyhound over from North America.
"Our cross border service is a very exciting proposition for us and we have every confidence that it will prove popular."
Related Internet Links
The BBC is not responsible for the content of external sites.