Scotland 'could rely on renewable energy'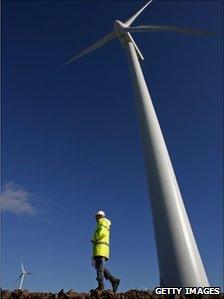 Scotland could close all its conventional power stations within 20 years and rely on renewable energy and imported electricity, according to a report.
The study of future trends has been published as the UK energy secretary sets out radical measures to ensure Britain maintains enough power.
Chris Huhne is to address how power companies can be encouraged to invest £200bn to replace Britain's ageing power plants and grid connections.
To a large extent, the alternatives would be wind turbines, local heating plants and micro-generation from homes.
He's also expected to explain how he hopes to ensure there are conventional power stations built as a reserve to fire up when the wind drops.
In Scotland, environment group Friends of the Earth hopes that won't be necessary. It has commissioned a study from energy consultant Garrad Hassan that makes the case for Scots pulling back demand for electricity and building more renewable capacity, much of it for export.
Then, when the turbines won't turn, Scotland could use the export grid to import power from its neighbours' conventional power plants.
If Scotland could reach 185% of its own needs from renewable power, it is claimed the capacity for exporting the surplus would be far greater than the maximum needed to plug the gap when wind power drops.
The consultants' report foresees a rise in demand for electricity of 12% if there is little done to constrain it.
However, more efficient use of energy could lead to drop in electricity demand of 14% from today's level within 20 years.
It calculates the effect of continued trends of traffic growth, meaning the only way of meeting targets for carbon emission reductions would be by all vehicles being electric.
But if car use could be cut back to the levels nine years ago, only one in six cars would have to be electric and another half would have to be hybrid. That would still require 5% of estimated electricity demand.
The report suggests millions of those cars' batteries could store energy to help meet peaks in demand on the grid.
Pump storage of hydro power - using off-peak power to pump water uphill, for release when demand rises - is also a way of smoothing out peaks and troughs in demand.
Garrad Hassan's report sets out hopes for better insulated buildings to store heat at off-peak times, reducing the surges of demand for power.
The issue of back-up or base load supply of electricity has been hampering those trying to make the case for more emphasis on renewable power and less investment in new coal or gas-burning power plants, or replacement of nuclear.
The report says back-up gas plants are one option, alongside inter-connectors to import power when renewable power is reduced.
It is also argued that there could be price incentives for those, typically in industry, who are able to defer demand away from peak surges, doing so at short notice.
Related Internet Links
The BBC is not responsible for the content of external sites.