Herald and Times newspapers cut staff in Glasgow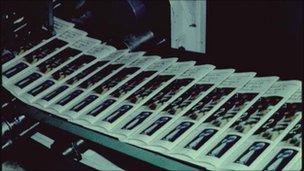 Several staff at The Herald and Evening Times newspapers have been told their jobs are to be made redundant.
BBC Scotland has learned that the Glasgow-based papers are cutting about 13 editorial staff.
Six voluntary redundancy applications were accepted at the Newsquest-owned titles, but some compulsory redundancies are also being made.
Staff were being told in one-to-one meetings with the group editor-in-chief Jonathan Russell.
The Herald and Times Group said "a small number of staff" would lose jobs in its newspaper division to reduce costs in the light of current and forecast trading. This process will be completed by the end of the year.
The company said the process involved fewer than 20 staff in marketing, operations and editorial.
Its s1 internet advertising, magazines and printing businesses are not affected.
The company declined to comment on speculation the Sunday Herald would be relaunched in January. Some reports have claimed the paper would be turned into a news magazine.
In common with most major newspapers, sales of The Herald and the Sunday Herald have dropped significantly in recent years. Advertising has also been hit by the growing use of the Internet by some recruitment and property advertisers.
The Herald recorded sales last month of 52,736 - its second worst figure in recent decades. As recently as January 2007, The Herald sold 72,000 copies.
Sales at the Herald's sister title the Sunday Herald fell from 42,289 in October to 41,464 in November - possibly in response to a price rise from £1 to £1.30.
Related Internet Links
The BBC is not responsible for the content of external sites.