Aberdeen Asset Management boss awarded £3.3m bonus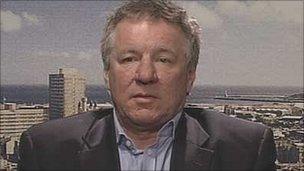 The boss of one of Scotland's most successful financial companies has been paid more than £4m for a year's work.
Martin Gilbert, chief executive of Aberdeen Asset Management, saw his basic salary increase from £400,000 to £500,000.
However, according to the company's annual report, he was also awarded a bonus of £3.3m.
Mr Gilbert will take a quarter of the bonus in cash, while the remaining 75% will be paid in company shares.
These will become available to him in equal shares over the next three years.
The bonus is based on the company's share performance when set against stock market averages.
In the most recent results, covering the year to 30 September, the fund manager raised its pre-tax profits by 147%, to £210m.
Mr Gilbert is also chairman of First Group and Chaucer Holdings, for which he earned an additional £262,000.
Aberdeen Asset Management directors Andrew Laing and Bill Rattray have seen their basic salaries boosted from £250,000 to £350,000, with bonuses and pension contributions of £695,000 and £634,000.
One of those on the company's remuneration committee, which decides the level of pay, was Sir Malcolm Rifkind, the former Foreign Secretary, who earned a director's fee of £50,000.
Mr Gilbert was one of a group who set up Aberdeen Asset Management 27 years ago.
Headquartered in Aberdeen, it now operates in 24 countries, with 31 offices and more than 1,800 staff.
Related Internet Links
The BBC is not responsible for the content of external sites.