Call for help for self-employed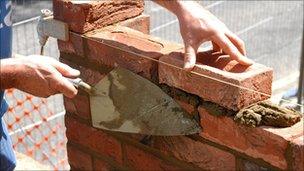 Self-employed people need more help if they are to expand their businesses and employ others, according to the Federation of Small Businesses (FSB).
The FSB in Scotland said one-to-one support was needed if they were to make a dent in unemployment figures.
Three of Scotland's main business organisations have sent out New Year messages aimed at politicians going into the Holyrood election next May.
The FSB was making the employment plan "the cornerstone" of its campaigning.
Scottish policy convener Andy Willox said the number of small businesses was still growing, with those registering as self-employed up to almost 200,000 - a rise of more than a quarter over the past 10 years.
"Not only would dedicated support to help the self-employed become employers take more of our businesses to the next level: it would create thousands of jobs and make a real impact on unemployment levels," he said.
"Once a business has taken on their first member of staff, it becomes far easier to take on their second, their third or their 103rd."
The FSB Scotland cites figures that suggest Scotland has a disproportionately low number of companies that grow beyond self-employment.
For every 100,000 people, England has 20% more companies of up to 50 employees.
North-east England is the only region to have fewer than Scotland.
Mr Willox said: "The simpler and more affordable becoming an employer is, the more people will be convinced to take the plunge. This has to be a priority for whoever wins May's Holyrood election."
"For a number of years Scotland has been focussing enterprise resources on a small number of businesses.
"We're arguing that those businesses looking to make the jump to become an employer should have some support: first to find out if it's for them and then, if so, some real help to get the systems, processes and staff they'll need in place."
CBI Scotland and the Institute of Directors also sent New Year messages to Scotland's politicians.
Related Internet Links
The BBC is not responsible for the content of external sites.