Business chiefs' New Year statements spark row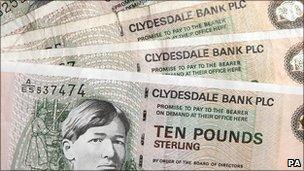 Scotland's business leaders have provoked sharp exchanges between political parties over who is best suited to boost economic growth.
Three business groups issued New Year statements urging those contesting May's Holyrood election to take "tough decisions" on spending and reform.
In response, the main parties clashed over the SNP's record in government and whether it had helped the economy.
It will be one of the areas on which the parties will campaign next year.
The Federation of Small Businesses in Scotland called for more support to help self-employed people to expand their businesses.
But employers' organisation CBI Scotland sparked the sharpest exchanges, warning MSPs that economic growth must be a priority.
Director Iain McMillan said: "In this election year, there will be temptations on the part of our politicians to avoid tough decisions and court popularity.
"But real leadership is about doing the right things for Scotland at the right time and explaining why they are necessary.
"Avoiding difficult but necessary decisions will be to fail Scotland."
Giving a report card to the SNP administration, Mr McMillan praised it for speeding the planning process, rail and motorway investment, backing for renewable energy, school curriculum reform, freezing council tax, and ensuring there were faster payments by public sector organisations to their suppliers.
However, he criticised the Scottish government for pursuing its independence strategy.
He described it as: "Expending energy and taxpayers' money on a National Conversation, principally about Scotland seceding from the United Kingdom - a conversation that the Scottish Parliament did not vote for, and a future outside the UK that a majority of Scots do not want."
Mr McMillan was a member of the Calman Commission set up by Conservatives, Labour and Liberal Democrats to pave the way to further devolution for the Scottish Parliament within the UK.
In his assessment of the SNP's record on the economy, he attacked ministers for the cancellation of airport rail links in Glasgow and Edinburgh, blocking more private sector involvement in public services, refusing new nuclear power developments, planning to introduce an extra business rates levy on supermarkets, and "deferring tough but necessary action on public service reform".
In a separate statement to mark the New Year, David Watt, executive director of the Institute of Directors, emphasised that whoever wins next May's election "will need to make hard decisions".
"The downturn has to be faced, although it also presents an opportunity to force through changes that many of us have long felt essential to get our economic balance correct."
He cited high pay and pensions for public sector executives, arguing that the government share of the economy "is not sustainable, and politicians and others must be brave enough to make the structural changes required to deliver long term prosperity".
Mr Watt also attacked "dogmatic" approaches to public services, and called for more to be run by co-operatives and private companies.
"We've been 'fiddling while Rome burns' and this can't continue," he said.
"We have to move people working in the public sector into the private sector and find the entrepreneur inside them to make our country grow and prosper."
Responding to the CBI Scotland comments, Labour's leader at Holyrood, Iain Gray, said: "This is a huge slap in the face for the SNP government from one of Scotland's leading business organisations.
"The SNP's complete failure on efforts to grow the economy have been highlighted along with the cancellation of major infrastructure projects. These failures have cost tens of thousands of jobs in the construction industry alone.
"The CBI are also right to criticise the SNP's obsession with independence and the so-called National Conversation that has cost the taxpayer dearly in terms of both public money and wasted civil service time on a referendum that Scots don't want and Mr Salmond finally ran away from."
Liberal Democrat chief whip Mike Rumbles MSP backed the criticism of the business rates revaluation, introduced recently without a programme of transitional relief.
"The SNP have made a real mess of business rates in Scotland. Businesses will be happy to see the back of the SNP in May," he said.
"Liberal Democrats want to make the business rates system fairer, with transitional relief for those hardest hit by the SNP government.
"We also want to reform Scottish Water to make it borrow from the markets, not the taxpayer. This should save £600m for the public purse."
Conservative finance spokesman Derek Brownlee said the Tories could take credit for budget deals with SNP ministers that meant council tax was frozen and smaller businesses had reduced business rates.
But he said the SNP had sided with Labour in "outdated ideology" that blocked savings on public service, including the capital grant to Scottish Water.
A spokesman for the first minister issued a detailed rebuttal of Iain McMillan's New Year statement, saying most businesses would be astounded that the SNP administration was not being credited with cuts in the tax bill on smaller companies.
The spokesman said Mr McMillan should not criticise the money spent on the National Conversation on independence, when he had been part of the Calman Commission, which he said "came up with proposals which threaten to leave Scotland worse off".
"This SNP government is making the tough decisions needed in the face of unprecedented Westminster cuts, two-thirds of which are Labour's legacy and the remaining third imposed by the Tory-Lib Dem coalition," he added.
He said infrastructure spending continued, but without the "ruinously expensive" private finance schemes favoured by the business lobby.
The St Andrew's House spokesman argued green energy initiatives were an alternative to "dangerous, dirty and costly new power stations".
Responding to the criticism of the supermarket levy proposed in the budget for next year, he said it would affect only one in a thousand business properties, it would raise £30m, and would "redress some of the imbalance between profitable large supermarkets and smaller independent retailers".
Related Internet Links
The BBC is not responsible for the content of external sites.