New gym venture payasUgym secures funding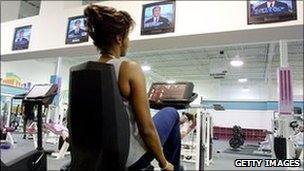 A new pay-as-you-go gym group has won funding of £260,000.
The payasUgym programme is due to launch next month and will let customers visit a network of clubs without having to pay membership fees.
Gym-goers will "load" cash onto an online account which can then be used at various fitness centres.
Jamie Ward, co-founder of payasUgym, said: "Consumers are increasingly demanding more choice and flexibility with their gym memberships."
He added: "PayasUgym will address these existing market restrictions and provide affordability and convenience for casual gym users."
The new group is likely to face competition in providing more affordable gym access.
The easyJet entrepreneur Sir Stelios Haji-Ioannou is planning to launch a budget fitness club next year with monthly-only contracts costing as little as £15-a-month.
PayasUgym was thought up by work colleagues Jamie Ward and Neil Harmsworth, who came up with the idea when travelling back from a meeting and discussing how difficult it was finding a gym to visit on a casual basis.
The company will launch in the south east of England before expanding throughout the UK.
The funding was arranged by Envestors, which was bought by the Perth-based Investment group Braveheart earlier this year.
Envestors specialises in matching private investors with fast growing start-ups.
Related Internet Links
The BBC is not responsible for the content of external sites.