Fashion chain Cruise rescued by Sir Tom Hunter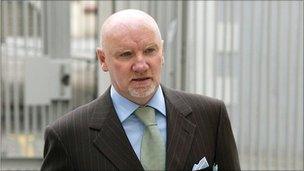 Retail tycoon Sir Tom Hunter has led a rescue buy-out of the Cruise fashion chain and ten of its stores.
The Edinburgh-based company has been struggling financially and was placed in administration on Wednesday.
Deloittes, the administrators, closed the Dundee and Livingston stores, but retained stores in Edinburgh, Glasgow, Aberdeen, Belfast, Derby, Leicester and Newcastle.
A buy-out was already arranged at the time of the administration.
Sir Tom Hunter was reported to be vying with JD Sports to take over the Cruise brand and business.
It is thought to have sold for nearly £5m.
Sir Tom said he intends to keep the remaining ten stores trading as part of a joint venture with the Van Mildert clothes retailer, which has shops in north-east England.
The Ayrshire retail and property entrepreneur said this would "maximise opportunities in the luxury fashion industry".
While Van Mildert takes charge of the buying operation, he is to carry out a strategic review, and to introduce an "innovative shareholding structure".
Sir Tom said: "Cruise is an iconic brand that requires investment for growth.
"It's a business I'm delighted to invest in.
"Combining this acquisition with a partnership with Van Mildert, an exceptional fashion business in my view, offers a strong platform from which to build both businesses."
Eric Williams, director of Van Mildert, said the firm has had robust trading during this year, opening new stores and winning the industry's Draper's Awards.
He added: "It is flattering to have caught the attention of Sir Tom and his team and I am sure that this collaboration will inevitably lead to exciting new ideas about how we continue to take both brands forward."
John Reid, head of Deloitte Restructuring in Scotland, said: "This sale not only secures the future of the brand in the UK but also preserves over 300 jobs."
Cruise was established in 1981 in Edinburgh, selling a wide range of premium and designer label fashion brands, and in 1996, Van Mildert entered the same men's and women's market from a converted 17th century jail in Durham.
It now has five stores, having expanded to York, Darlington, Harrogate and Gateshead.
Related Internet Links
The BBC is not responsible for the content of external sites.