Sunday Herald newspaper to be relaunched as magazine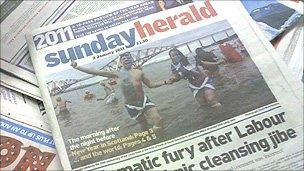 The Sunday Herald newspaper is to be relaunched as a weekly news magazine, its publishers have announced.
From next week the title, which sells about 42,000 copies a week, will become a 92-page magazine.
The paper said it would "offer readers a distinctive package unlike anything else being produced in Scotland".
The move comes as journalists at the Herald and Times group prepare to begin industrial action over compulsory redundancies.
There has been intense speculation over the future of the Sunday Herald for several weeks. The change to a magazine format had been widely rumoured.
In an editorial announcing the changes, the paper said the new look Sunday Herald would continue to feature readers' favourite writers and many of their favourite features.
However, critics will note that at 92 pages, the new look title will be smaller than the current newspaper.
The Sunday Herald was launched in 1999 and at its peak sold about 60,000 copies a week.
Its sales have declined significantly over the past few years although the circulation has stabilised in recent months, helped by a price cut.
The change in format - a first for a major UK newspaper - will be watched closely by the rest of the industry and supporters may see it as proof that the paper's self-proclaimed radical and pioneering spirit is alive and well.
In recent years, most major newspapers have experienced significant drops in their circulation.
The Scottish press has faced a double challenge with competition from the internet and dedicated Scottish editions of many of the major UK-wide titles.
The Herald and Times group recently announced plans for about 20 redundancies across the company. About a dozen of them are editorial staff.
Members of the National Union of Journalists are due to begin a work-to-rule at the company on Monday over compulsory redundancies.
Strike action is scheduled for this Thursday and Friday, potentially disrupting the production of The Herald, Evening Times and the new look Sunday Herald.
The company had previously said the move reflected current and forecast trading.
Related Internet Links
The BBC is not responsible for the content of external sites.