Scottish exports go into reverse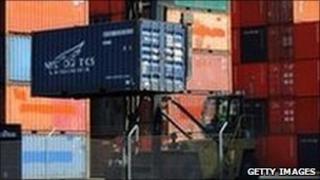 Latest figures show Scottish exports fell by 0.7% in the three months from July to September compared with the previous quarter.
Between April and June, overseas sales had recorded a modest rise.
The annual figure was a little more optimistic showing an increase of 0.7% over the year.
The Scottish government said the figures demonstrated the "fragility of the recovery" and highlighted the difficulties faced by Scottish firms.
However, the Enterprise Minister, Jim Mather, pointed to a series of "top level deals" with China this week.
He said: "It's been an exceptional week for Scotland on a global stage. Successful negotiations with China have highlighted the strengthening of ties between our nations, paved the way for major expansion potential into China and elsewhere and delivered exciting prospects for the Scottish economy."
In the summer months, most sectors seemed to see a drop in exports with metal products experiencing the biggest fall of 10.3%.
In contrast, overseas sales of textiles increased by 6.3% and manufacturing rose by 2.1%.
Over the year, many different sectors did well although engineering saw a fall in sales abroad of 9.4%.
Chinese expansion
Meanwhile Glasgow-based Weir Group has announced a further expansion of its Chinese operations.
It has said it will set up 8 new sales offices with a Chinese partner which the company said "would substantially increase its growth prospects" in the country.