Scotland's hotels face 'another difficult year'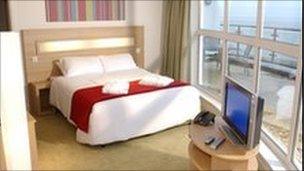 Scotland's hospitality sector faces a difficult year, according to a business advice company's latest report.
PKF said their monthly survey found Scottish hotels experienced large falls in occupancy and revenue during December 2010.
The firm said hotels were affected by heavy snow falls, but Aberdeen benefited from rising oil prices.
Overall, year-on-year occupancy levels fell by 8.5%; whilst the UK as a whole saw a fall of 2.5%.
Revenue in Scotland was down 9.1%, while in the UK it increased by 0.1% for the same time period.
However, the downturn in Scottish figures was not uniform - occupancy levels in Aberdeen increased by 10.2% with a 10.6% rise in revenue.
In contrast, occupancy in Edinburgh fell by 12.5% and revenue by 11%.
Glasgow was more stable with an occupancy fall of 2.6% and a fall in revenue of 5.1%.
PKF said the rise in oil prices to about $100 a barrel accounted for the increase in Aberdeen, which, they say, should continue as long as the oil price remains high.
Despite the December figures, Scotland had the highest occupancy figures for the UK during 2010 at an average of 71.6% compared with 69.4% for the UK as a whole.
Although Edinburgh recorded a large fall in December, the capital was in the top three performing cities for last year with an average occupancy of 77.0% and an average room yield of £67.65.
Alastair Rae, from PKF, said: "These figures indicate just how negatively the adverse weather conditions affected the Scottish hotel sector and, in particular, Edinburgh.
"These statistics would indicate that leisure and business trips were cancelled in significant numbers as a direct result of the weather and hotels experienced lower than expected demand for the time of year."
Edinburgh Airport was closed for several days in December because of deep snow.
Mr Rae added: "Whilst the annual data shows that Scotland had a relatively good year considering the economic circumstances, there is obvious worry among consumers about the public sector cuts and the performance of the economy, the continuing depression in the housing market, and the potential upturn in interest rates.
"These mean that the sector is facing another difficult year."
Related Internet Links
The BBC is not responsible for the content of external sites.