Scotland's private sector economy returns to growth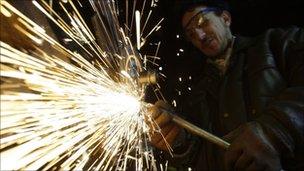 The Scottish private sector economy returned to growth in January, reducing fears of a "double dip" recession, a Bank of Scotland report has revealed.
The bank's seasonally-adjusted index, which monitors activity in Scotland's manufacturing and service sectors, showed growth in both areas.
The report also showed a rise in orders following December's severe weather.
However, the overall number of employees in the private sector fell for the third month running.
Donald MacRae, the bank's chief economist, said the figures increased the expectation of a continuing recovery in 2011.
He said: "During the month, the volume of new business received from export markets rose at the fastest pace since last June.
"Manufacturing companies increased their staffing levels further, extending the current period of job creation to one year.
"Overall, new orders rose for the first time in four months, although the index pointed to only a mild rise.
"Particularly welcome is the return to growth in all three service sectors: business, financial and travel, and tourism and leisure."
Mr MacRae said that despite the increase, 2011 looked to be a year of low growth for the economy.
The report also highlighted growing inflationary pressures across the Scottish economy, as input and output prices both rose at their fastest rate since September 2008.
The Bank of Scotland's Purchasing Manager's Index (PMI) monitors activity in the manufacturing and service industries on a monthly basis.
Scotland's private sector economy increased by 16 points on the PMI index from 36.9 in December 2010 to 52.9 last month. It is considered to be growing when it is above 50.
The service sector continued to lose jobs due to a lack of demand but the manufacturing sector reported a robust increase for the 12th month in a row.
Scottish manufacturers and service providers registered a considerable acceleration of cost inflation during the month, with higher fuel, energy and food prices widely commented on.
Reflecting the increase in cost inflation, private sector firms raised their output prices at the fastest pace in two and a half years during January.
New order levels rose for the first time in four months during the first month of 2011 but growth in Scotland is still below the UK level.
Anecdotal evidence from the survey panel indicated that new order growth primarily reflected a pick-up from December's weather-related slump, rather than an improvement in demand.
Related Internet Links
The BBC is not responsible for the content of external sites.