Transport tycoon Brian Souter to aid SNP election bid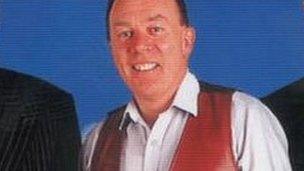 Transport tycoon Brian Souter is to help fund the SNP's Scottish Parliament election campaign.
The Stagecoach co-founder, thought to be worth in excess of £400m, has said he will match individual donations to the party up to the value of £500,000.
The announcement coincides with attempts by the SNP to raise £1m for the 5 May election.
Labour, which is ahead in the polls for the Holyrood election, said it expected to be out-spent in the campaign.
Mr Souter said he believed Alex Salmond should be returned as first minister following the election.
He added: "Alex Salmond and his team have run a professional administration at Holyrood for the last four years and freezing the council tax has benefited every Scottish family by more than £300 per year.
"Furthermore, they have delivered most of their promises despite being a minority government."
Referring to Mr Souter as "one of the outstanding entrepreneurs of his generation", SNP leader, Mr Salmond said: "This offer to match every small donation the SNP receives up to £500,000 will power our fundraising for this campaign, and double the impact of every penny put toward re-electing an SNP government in May."
Labour said it was now incumbent upon the SNP to reveal "what they've promised Stagecoach co-founder Brian Souter in return for his £500,000 election donation".
The party's Holyrood election co-ordinator, John Park MSP said: "The SNP must explain why they dropped their bus policy days after getting this donation in 2007, and what they have promised now.
"The SNP are trying to re-fight the 2007 election. They don't understand that this is a doorstep election, not a big money election.
"We fully expect to be out-spent by the SNP but we are fighting for every vote so Labour can change Scotland for the better again."
The donation from Mr Souter was also attacked by Patrick Harvie of the Scottish Greens.
The Glasgow MSP said Mr Souter's opposition in 2000 to the lifting of Clause 28, preventing the promotion of homosexuality by councils, prompted questions about his suitability as a political donor.
Mr Harvie said: "The campaign against Souter's bigoted agenda inspired me to get into politics, and any principled party would have told him where to stuff his money.
"This isn't America, though, where elections can be bought and sold. The SNP are delivering tax cuts for the rich and public service cuts for the rest."
Related Internet Links
The BBC is not responsible for the content of external sites.