Scottish shoppers tighten belts after festive period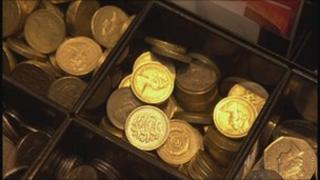 Concern about the impact of cuts on jobs and personal finance had a knock-on effect on Scottish retail figures for January, a study has suggested.
The Scottish Retail Consortium survey found comparable sales fell by 0.9% on the same period last year.
Food sales fell below their year-earlier level for the first time since July 2010.
Overall like-for-like sales weakened to show a year-on-year decline while those in the UK picked up to show growth.
A much steeper fall in consumer confidence in Scotland than in the UK meant shoppers were much more cautious.
Clothing and footwear remained well down on a year ago, the survey showed.
Homewares and furniture showed some early gains, driven by clearance and pre-VAT rise purchases, but sales fell back later in the month.
'Difficult time'
Fiona Moriarty, director of the Scottish Retail Consortium, said: "People enjoyed themselves over Christmas but cut back once the New Year got under way.
"There was some last minute spending at the start of January to take advantage of promotions and to beat the VAT rise, but consumers then tightened their belts."
She added: "January's fall in like-for-like spending marks the start of a potentially difficult trading period for retailers."
David McCorquodale, head of retail in Scotland for accountants KPMG, said: "With like-for-like sales for January down by 0.9% in Scotland compared with sales for January 2010, a month when, for many days, the whole country was deep under a blanket of snow, this is deeply disappointing.
"With footfall on the high street below average and personal financial worries high on the family agenda, we remain cautious for 2011."